We are excited to announce our new Workforce Initiatives that are now available through ARP Act Funding intended to help recruit, retain, and upskill early educators. To register, visit The Promise Institute today.
Available funding opportunities include:
DCF Introductory Courses Costs Reimbursed
Free CPR/First Aid
90 Day Retention Bonus
6 Month Retention Bonus
1 Year Retention Bonus
CLASS Observer Trainings Bonus for Directors
If you have questions, please feel free to reach out to Beverly Kamp at b.kamp@elcph.org.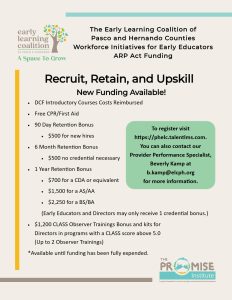 Download ARP Workforce Flyer
Don't miss out!