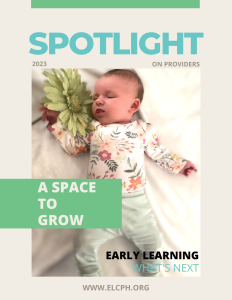 SPOTLIGHT on Providers is published annually by the Early Learning Coalition of Pasco and Hernando Counties, Inc. for the provider community. It is distributed electronically to all providers and is also available on the website at www.elcph.org.
This edition contains a letter from our Executive Director and the Faith Based Provider Representative on the Board of Directors. In addition, you will find information on new innovative learning opportunities, summer activities for children, the apprenticeship program and more. We hope you enjoy!
Download Spotlight on Providers 2023
If you would like to contribute to the next edition of Spotlight on Providers please contact, Sherri Sabadishin at s.sabadishin@elcph.org.
Authors are encouraged to submit readable, practical manuscripts that reflect and advance the knowledge base of the profession. Manuscripts should be prepared in current APA style (2009, 6th Edition). This style includes: typed, double-spaced, wide margins, and cover page with a working title, authors' full names, degrees, affiliations, and e-mail address for the lead author.
Manuscripts published by ELCPH address both the continuing interests of early childhood professionals and emerging ideas and issues in the field. Among topics considered are emergent curriculum for children from birth through age 8, effective assessment strategies, effective classroom practices that reflect sound theory and research, program administration, relationships with families, and public policy effecting early care and education.
The length of journal manuscripts ranges from 1 to 3 pages, including complete references. Please submit manuscripts as e-mail attachments to expedite the review process. Send to s.sabadishin@elcph.org with the subject heading SPOTLIGHT Manuscript. Manuscripts are reviewed and processed electronically. Manuscripts that are submitted in hard copy will not be reviewed.