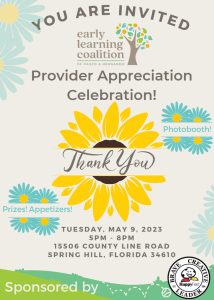 Teacher Appreciation Week and Provider Appreciation Day is quickly approaching. The Coalition wishes to invite you to attend our Provider Appreciation Celebration on Tuesday, May 9th at our Spring Hill office! We are excited to connect and recognize our Pasco and Hernando County childcare directors/owners and teachers!
When: Tuesday, May 9, 2023
Where: 15506 County Line Road, Spring Hill, FL 34668
Time: 5pm – 8pm.
RSVP: Jenna Zimmer at j.zimmer@elcph.org
Join us for the festivities between the hours of 5 and 8 p.m. There will be raffle prize giveaways including appetizers, sweets, beverages, and photobooth fun!
You deserve a heartfelt "Thank You" for planting the seeds of learning one child at a time! We appreciate your continuous dedication, commitment and compassion for our young learners!
We look forward to seeing you there!
Please see flyer below. RSVP to Jenna Zimmer at j.zimmer@elcph.org.